Bonjour,
Le projet suivant correspond à vos critères d'investissement
------------------------------------------------------------
SOURCE: California Investment Network
TITLE: The World Keeps Getting Smaller - Social Commerce Solutions
SYNOPSIS:
We drive social commerce solutions with user-generated content, mobile wallet technologies, wireless broadband devices, and nationwide data plans. We help business owners & social network users monetize their businesses & their content.
PROPOSAL SUMMARY:
Question: How are enterprising social networking users directly monetizing their businesses and their content from their social networking efforts?
Answer: They're not. Enter, Our Company.
We are a Los Angeles-based limited liability company that has partnered with a major broadband service provider to offer nationwide data service plans, USB Modems, and Mobile Hotspots. Our unique offering provides reliable and affordable data service to students, entrepreneurs, families, and organizations located in the United States. Once a user connects to the Web via a Smalltell device, they will be able to access our Editor and Virtual Wallet, allowing individuals and businesses of all types to drive sales by creating unique Promotions and Fund Drives for their personal or professional endeavors. With a detailed roll out plan for 2012 and beyond, We will continuously evolve by adding new features to the Smalltell Editor and Virtual Wallet that will allow users to unify their promotional and transactional efforts by creating unique multimedia Smalltells that can be distributed across the Web and made available to desktops, laptops, tablets, and smartphones. Future features of the Smalltell service will include the addition of "Create a Show" & "Create an Event."
We have several key strategic partners. Partnerships include a multinational payment processing company, an Indian software development firm, and several U.S.-based wireless service providers. These allies strengthen the Smalltell initiative, allowing the company to scale with great efficiency and profitability.
There is a revolution occurring where entrepreneurs are now becoming self-reliant, self-contained business entities in need of a unified platform that allows them to grow autonomously. This is what will define the future of business in America and around the globe.
Our goal is to power the business efforts of 10M+ entrepreneurs and business owners.
MANAGEMENT TEAM:
Eric Jason Prouty, Co-founder, CEO, & CCO
Mauricio Ruiz, Co-founder & Creative Director
Philip Prouty, Co-founder & President
Carl Silva, Co-founder & CTO
Sandipan Sharma, Co-founder & CIO
Greg Maxwell, Senior System Architect
Jacob Burgess, Operations & Business Development
RETURN ON INVESTMENT:
1,000,000 Shares , LLC.
at $1.00 per Share
$1,000,000
Smalltell, LLC., located in Los Angeles, CA, is offering a maximum of One Million (1,000,000) shares at $1.00 per Share. Minimum subscriptions of $250,000 (250,000 Shares) will be accepted from any one accredited investor.
AMOUNT REQUESTED: 758,000 EUR ($1,000,000)
MINIMUM INVESTMENT: 189,500 EUR ($250,000)
REGION: Southern California
INDUSTRY 1: Internet, eCommerce & Apps
INDUSTRY 2: Telecom & Mobile
INVESTOR ROLE: Advisory
BUSINESS STAGE: Finished Product
INVESTMENT REASON: Working Capital
POSTED: January 30, 2012
------------------------------------------------------------
Pour demander plus de renseignements sur le projet de l'entrepreneur, veuillez ouvrir session à
http://www.reseaufinancierfrancais.com/outils_investisseur?op=ip1&pid=89c552a8d03d5791bd2dc5489a2654a4,
cliquer sur l'onglet "Contact" et puis sur le bouton "Contacter l'entrepreneur".
Si vous voulez modifier vos critères d'investissement veuillez ouvrir session à www.reseaufinancierfrancais.com/outils_investisseur/35.
Meilleures salutations,
Mike Lebus
Réseau Financier Français
www.reseaufinancierfrancais.com
"Un lien privilégié entre les Entrepreneurs et les Business Angels"
_________________
A votre écoute
Mr Delwak A
(alias: SNIPPER02)
-Admin Principal de votre réseau social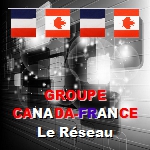 Coordonnées:
Mon groupe FACEBOOK :
https://www.facebook.com/groups/groupe.canada.france
Mon Consultant :
http://tmc-consulting-club.1fr1.net
Mon Réseau social :
http://groupe-canada-france.forumactif.org
Mon Club Formation :
http://groupe-canada-france.moncontact.com